My rating:
4 of 5 stars
Devil's Kiss #4
Release:
December 27, 2016
Heroine POV
- 1st person
Heat:
5 out of 5
Length:
231 pages
Kayla Sutton has finally submitted.
And now that Gage has his wife firmly under his control again, he won't stop until he's extracted every last independent drop from her being.
As each day passes, she learns new ways to accept his dominion. After all, she has a lot to atone for. Flirting with disaster with her ex-lover turned brother-in-law might be forgivable, but it's not so easily forgotten.
And neither are skeletons. If there's one thing Kayla has learned it's that skeletons don't just come out of the closet; they bust through with the power of a locomotive, mindless of the destruction they cause.
For the sake of her sanity, Kayla must make a tough decision, even if it means leaving everything behind.
NOTE TO READERS: The Devil's Spawn is a continuation of The Devil's Kiss series. For a better reading experience, please begin with book 1 before reading the Devil's Spawn. For mature audiences only. Includes explicit and disturbing subject matter that may offend some readers.
Read it for FREE with Kindle Unlimited
MY REVIEW
I'm thinking that this might very well be the conclusion to the series. Not sure. Although I was still quite irritated, I really quite enjoyed what I've read so far. Gemma James is one hell of a writer and I'm surprised by how much emotion she was able to pull out of me. Granted, most of it was anger, but who cares right?! The fact that I felt so strongly is just a testament to how invested I was in Gage and Kayla's story. Her writing was so on point that every time Gage punished Kayla, I felt it.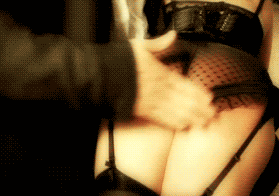 Her poor bum!
My disappointments remained the same. Nothing new. To find out what they are because I would hate to repeat myself for those who already know, read the following reviews:
The Devil's Kiss (Book 1)
The Devil's Claim (Book 2)
The Devil's Wife (Book 3)
Other than sorely missing out on Gage's POV, I thought this was not only an awesome series but also a great introduction to this author.