The Devil's Spawn
by
Gemma James
My rating:
4 of 5 stars
I'm thinking that this might very well be the conclusion to the series. Not sure. Although I was still quite irritated, I really quite enjoyed what I've read so far. Gemma James is one hell of a writer and I'm surprised by how much emotion she was able to pull out of me. Granted, most of it was anger, but who cares right?! The fact that I felt so strongly is just a testament to how invested I was in Gage and Kayla's story. Her writing was so on point that every time Gage punished Kayla, I felt it.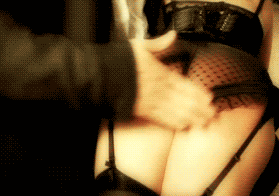 Her poor bum!
My disappointments remained the same. Nothing new. To find out what they are because I would hate to repeat myself for those who already know, read the following reviews:
The Devil's Kiss (Book 1)
The Devil's Claim (Book 2)
The Devil's Wife (Book 3)
Other than sorely missing out on Gage's POV, I thought this was not only an awesome series but also a great introduction to this author.
Release Date:
December 27, 2016
Genre:
Erotica
POV:
Heroine - 1st person
Steam:
5 out of 5
Series or Standalone:
Book 4 of the Devil's Kiss series