My rating:
4 of 5 stars
Devil's Kiss #2
Release:
February 8, 2015
Length:
192 pages
Review of book 1,
The Devil's Kiss
It's been a year since Kayla Sutton walked away from Gage Channing. Now he's back, and so is Ian Kaplan, Kayla's one-time lover from her college days. Gage's jealousy is his worst enemy, and when he thinks Kayla has chosen Ian, he sets in motion a drastic plan to claim what's his. Only Kayla never expects him to infiltrate her heart so effortlessly, and she never dreamed there would come a day when he wouldn't want her.
Gage believes she's committed the ultimate sin, but will she use his mistake to finally escape the cage of his obsession? Or will she do whatever it takes to make him see he can entrust his heart to her…just as she's already lost the core of her being to him?
NOTE TO READERS: THE DEVIL'S CLAIM is a dark romance with a BDSM edge that does NOT conform to safe, sane, and consensual practices. Includes explicit content and subject matter that may offend some readers. Intended for mature audiences. Book 2 of the Devil's Kiss Series. Previously titled The Devil's Kiss: Epilogue
Read it for FREE with Kindle Unlimited
MY REVIEW
Somehow I'm still enjoying this series, wondering what the heck I'm really reading!!
As much as I truly am enjoying this series, it was hard to understand Kayla. I spent the entire time reading this installment
PISSED!!
There were way too many times that I had to question her decision-making. Too many times that I had to remind myself that she really was a grown ass woman. Too many times I wondered where her people are because I've been wondering
WHERE THE FCK IS THIS GIRL'S FAMILY???
See, in reality I know that there are women in similar situations to Kayla. I know that not every woman is going to be like me. Gage's ass would be in jail. No question. Whip me boy? Give me permission to talk to people? After you done whipped me??? Got 911 on speed dial homie. Kidnap me, beat me, pushed me into a hospital, rant and rage, hurt me, and then have the nerve to say you
love
me? Do these characters know what love is???
Let's state the facts shall we. Kayla left and subsequently divorced Rick because he was exceptionally evil and abusive. There have been parallels drawn between Rick's behaviour and that of Gage. Now I'm not saying that Gage is as bad, but abuse is abuse. I call it like I see it. Yes, Rick actually attempted to kill her while Gage hasn't, however, for her to say he's not abusive...
Did Gage not abuse his power? Did he not manipulate everything for his benefit? Can someone give this woman a damn definition? She's lost her damn mind!!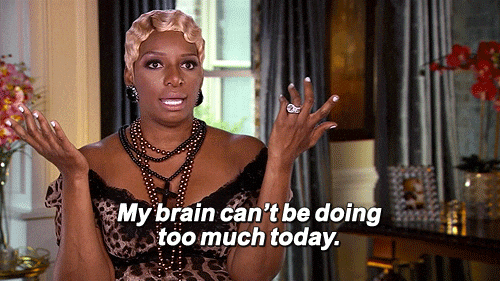 I kept thinking about Kayla's daughter, Eve, and what she's been exposed to. Not knocking BDSM AT ALL, but I can't categorize Gage and Kayla's relationship as a true representation of the lifestyle. It has no rhyme or reason and lacks structure, stability and security. I know I didn't feel safe. Is that normal? Also, Gage gets to pull all types of stunts and NEVER has to answer for it. His attempts at grovelling were pathetic and yet, typical of Kayla, he's back in and whipping that ass again in no time. And she acts like she did something wrong. Isn't that one of the signs of abuse???
There were a lot of times that I had to warp what I knew to be reality in order for this story to work for me. In no time, I failed to view Kayla as someone of strength. I'm finding her severely lacking a backbone.
I DID love getting to know more about Gage and what made him tick. Nothing excuses his behaviour, but I better understand his warped view of the world. His POV was still sorely lacking. I can't wait to see what other fuckery this couple will be up to next.
*Copy generously given in exchange for an honest review*