My Rating
- 5 out of 5 stars
Crowned #1
Release
- November 14, 2017
Genre
- Dark Romance
Dual POV
- 1st person
Heat
- 3.5 out of 5
Length
- 172 pages
Some would say I have a privileged life. Daughter of the current President of the United States, wealthy, famous, and all things that some girls wish they had.
Only I'd dream of having a simple life. A life where I wasn't marrying the scariest man I have ever met. Well, I thought I had just met him, but it turns out, there's so much I don't know about myself. That's all thanks to a past so twisted, so warped, that no amount of money, or presidential status could wipe it clean.
I'm the rebel child. Or as some may see it, the disappointment. I've never cared about expensive wedding gowns, or how much someone paid for a tailored suit. I don't care if your wedding dress is from Walmart, or if it's from some fancy, upscale designer line.
So why am I marrying the devil dressed in a thousand-dollar suit?
I'm about to find out how I got here. To marrying one of the most powerful men in the country. The road to finding out, though, is paved with darkness, painted with the blood of innocents, and it leads my ass straight to hell. Only this hell is a multi-million-dollar penthouse suite in New York City where Bryant Saint Royal, sits on his throne.
Find your copy of Crowned By Hate here:
Goodreads | Amazon
FREE with Kindle Unlimited

MY REVIEW
First of all, Amo… why you do me like that??? That cliffy is going to bother me
FOREVER!!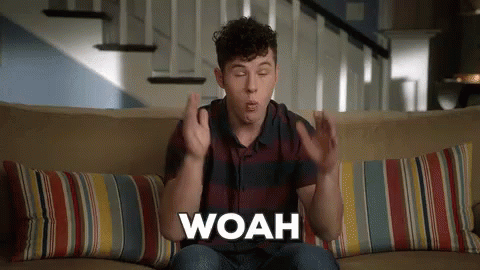 This story gets FIVE STARS just because of how bad it messed me up. Don't even know what to tell ya smdh!
Alright. I didn't love Isa. I could barely tolerate her in the beginning. She was immature, dishonest, insincere, rude, and someone I wouldn't bother with in real life. She put herself in situations that 'normal' people wouldn't dare venture in, and then wondered why her life was messed up. As the daughter of the POTUS, you would think she'd have a better understanding of the world she found herself in. However, I grew to like her. I'm not sure how or when that happened, but the further along I went in this story, the more she was able to gain my support. In the end, I still don't think I really knew who she was but I hope that changes as the series progresses.
Bryant is still a mystery to me. Every time I felt like I figured out his motive, something would happen that let me know that I was still in the dark. He was dangerous (still don't understand why), sexy, immensely successful, and seemed to hold Isa's life in the palm of his hand. Yet, I think I still don't know him either. With the mix of side characters who have motives of their own, I was easily confused. Again, I hope things are clearer in the next book.
Crowned by Hate
was a big bag of confusion. The writing was top notch. I was captivated from the very beginning. And while I was in the minds of the characters, the author wove a world of craziness that I didn't want to come out of. How could I be in their heads and still not have a clue what they're thinking??? The author has this way of writing people who feel real. Their actions and reactions are almost commonplace. The true shock value lies in their motives. And because they're still unclear, they remain the mystery that sustains my interest for the rest of the books to come. And with that freaking cliffy?! What the heck is going on??? I have no idea what or who is real or not!!!
Amo Jones has done it again! For those of you who haven't read her books before, I really don't understand what the hell you're waiting for. If you like to have your mind messed with (and not always in the best of ways), if you like being led down the twisted road of romance at its darkest, if you enjoy a story that isn't anything like the others, you need to
READ HER BOOKS!!