Release:
September 20, 2016
Multiple POV
- 3rd person
Type:
Three Dark Crowns #1
About The Book
When kingdom come, there will be one.
In every generation on the island of Fennbirn, a set of triplets is born—three queens, all equal heirs to the crown and each possessor of a coveted magic. Mirabella is a fierce elemental, able to spark hungry flames or vicious storms at the snap of her fingers. Katharine is a poisoner, one who can ingest the deadliest poisons without so much as a stomachache. Arsinoe, a naturalist, is said to have the ability to bloom the reddest rose and control the fiercest of lions.
But becoming the Queen Crowned isn't solely a matter of royal birth. Each sister has to fight for it. And it's not just a game of win or lose…it's life or death. The night the sisters turn sixteen, the battle begins.
The last queen standing gets the crown.
My Review
★★★★★
"Three dark queens
Are born in a glen,
Sweet little triplets
Will never be friends

Three dark sisters
All fair to be seen,
Two to devour
And one to be Queen"
I haven't been able to get this story off of my mind. In fact, I'm desperate to start the next one, One Dark Throne. And for that... I have to give this book all of the stars! I'm infatuated with the queens - their daily lives, their anguish, their motives, and their individual paths. I'm also intrigued by a ton of side characters and how they fit alongside the queens.
Maribella ~ Rolanth ~ elementalist
Compassionate. Patient. She came into her power early and is seen as the true future queen. She can manipulate air, fire, and water and is a formidable opponent. She is the most softhearted and hasn't had her heart broken... yet.
Arsinoe ~ Wolf Spring ~ naturalist
Proud. Down to earth. Perhaps the one who seems the least fit to be Queen. She's supposed to call to the animals and to the plants, but she's unable to do so... yet.
Katharine ~ Gravesdrake Manor ~ poisoner
Cold and cunning. Fragile. She holds the most hate in her heart. She has swallowed tons of poison and continues to do so to build up her tolerance. She's not a true poisoner but she is educated in their ways and hasn't died... yet.
Can you imagine being born as triplets and being ripped apart from your sisters, to grow up knowing that only one of you can survive? That is the intended fate of these three queens. Only one can rule and the rest must die. Pitted against each other, they are fed bitterness and vile words, filling their bellies and their hearts with hatred. With political machinations from one family and temple purists with their own agenda, who will be crowned in the end?
Okay so on to the side characters I can't quite figure out:
✫
Juillienne Milone
- a powerful naturalist and Arsinoe's best friend. The Milone's are the queen's guardians and Jules is tasked with teaching her the naturalist ways. It's a frustrating job with no results but Jules loves her foster sister. She is willing to do anything to help in Arsinoe's success and her loyalty cannot be questioned.
✫
Joseph
- childhood friend of both Jules and Arsinoe, he was exiled after attempting to run away with them. He's back and while everyone wishes things can go back to the way things were, they quickly find out how impossible that is. He ends up playing a major role in this book. I wonder how far his story will go. I can imagine many readers not liking some of the choices he makes, but he was by far one of the most likeable characters in this story.
✫
Pietyr
- he's the nephew of Natalia, the poisoner who acts as guardian to Katharine. He seems to have an agenda with his aunt, but he seems to also have one of his own. I'm not sure what his true motivations are or how authentic his feelings for Kat are. What he did in this book did not win him any favors.
✫
William Chatworth Jr (or Billy)
- a friend of Joseph's and eventually a loyal friend to Arsinoe. His family took Joe in when he was exiled and he is to become a suitor for the queens. It's pretty obvious that his true heart lies with the naturalist camp. I wonder if he will truly fall for Arsinoe.
I still can't decide who to root for, however, Mirabella got the most from me. It could be because she's the one with the most heart for her sisters. Or because she is more firm in understanding who she is. But her sisters intrigue me for the other reasons. Arsinoe is rebellious and carefree, without powers, and nowhere near ready to rule. Katharine is dark and deadly, determined to be the last one standing, even if it means giving her sisters horrific deaths. Honestly, I just want these girls to buck the system and band together to tear everything down. Why can't they share the rule of the kingdom? Who says that they can't make a change and that that change won't be better than what exists? Why should they abandon their familial bond to appease others in power? Long live the revolution!!
About The Author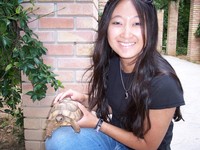 So, I write books. The Anna Dressed in Blood duo is horror, The Goddess War trilogy is mythology, and Sleepwalk Society is contemporary, because the world don't move to the beat of just one drum. What might be right for you, may not be right for some. Love to read, too. Fiction, philosophy, good books, bad books, because you take the good you take the bad you take them both and there you have a stack of books and stuff. I mean, you've got to be adventurous. There's more to life that what you're living, so take a chance and face the wind.
There's more coming soon like Scary Out There and THREE DARK CROWNS so don't waste another minute on your cryin. We're nowhere near the end.
My likes include animals, food, and nostalgia. I mean, whatever happened to predictability? The milkman, the paperboy, the evening TV? Used to be everywhere you look, there's a heart, a hand to hold on to.
Anyway, I love to hear from readers so drop me a line here or at my website and we'll talk about friends to know, and ways to grow, and how if you threw a party you would see that the biggest gift would be from me and the card attached would say, thank you for being a friend.
We can also talk about all the sitcom theme songs in this bio. Sha la la la.