Twisted Twosome
by
Meghan Quinn
My rating:
5 of 5 stars
I have absolutely
adored
every book I've picked up from Meghan Quinn, which may explain why so many of her paperbacks grace my shelves.
Twisted Twosome
will shortly join its compadres. This story was full of laughs, steam, fun, angst, emotions, and plain old love.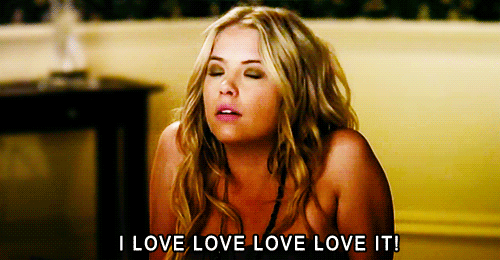 Georgiana comes from money, none of it her own, and she's got dreams that will take her beyond the carefully planned out life her chauvinistic father has laid out for her. Refusing to be the trophy wife her father always wanted her to be, she goes against his wishes to start her own business. But daddy won't make it easy for her. Racer comes from the wrong side of the tracks and to say that money was tight for him would be an understatement. If you've been following the backstory, he's one of Tucker's best friends and they work construction together. In order to honor his father's legacy, he's stretched himself thin by doing side jobs. Like building shelves while wearing this uniform:
Well, hello!
When Georgie can't find anyone to help her remodel her shop, Racer steps in to save the day. But things aren't smooth sailing. Until this point, he's rubbed her the wrong way, but I loved how the attraction was building behind every one of their barbed words and snide comments.
Every time they fought, bantered, conversated, pranked, played games… I just wanted them to bang it out LOL!! I guess this story can be categorized as enemies-to-lovers, but I could never really see these two as enemies. Were they at odds? Yeah, for the most part. But two good-to-the-bone people cannot be enemies. Especially when Racer says things like this:
"With heartfelt encouragement comes monumental accomplishments."
All joking aside, and really Racer was a joker, he was also smart, loyal and kind and his pure heart shines through with every turn of the page. Honestly, I was laughing and swooning so hard while reading this book. Quinn writes some truly hilarious and honest and amazing and real heroes… and her heroines are feisty, stubborn, witty, and fierce. Racer and Georgie's story was really about how oil and water
DO
mix.
P.S.
I'm hoping there's a story coming up for Smalls. *hint hint nudge nudge*
Release Date: August 3, 2017
Genre: Romantic Comedy
POV: Dual - 1st person
Heat: 4 out of 5
Type: Standalone