My rating:
4 of 5 stars
Standalone
- Roommates #4
Release
- August 14, 2017
Genre
- RomCom
Dual POV
- 1st person
Heat
- 4 out of 5
Length
- 302 pages
The smoking-hot one-night stand I was never supposed to see again?
Yeah, well, I might be pregnant, and he's my OB-GYN.
Get ready to fall head over heels madly in love with the hottest OBGYN doctor you have ever met! This full-length standalone contains the most hilariously awkward lady-doctor visit, lots of playful banter and some good ol' fashioned baby-makin'! One-click now for this summer's swooniest read.
Find your copy of The Soul Mate here:
Goodreads | Amazon
FREE with Kindle Unlimited

MY REVIEW
4 "I need you to page Dr. Mason Bentley stat!" stars"
Let me start off this review by telling you what I
LOVED
about this book:
👶 How realistic the characters appeared to be.
👶 Mason was an OB/GYN. I love stories about men who love bringing babies in the world so I knew he was a winner from jump.
👶 The fact that Mason wasn't the typical single successful man we usually read about in books. He valued time, love and devotion and relationships seemed to be sacred to him.
👶 Mason's patience and persistence when it came to pursuing Bren.
👶 The intimate scenes were scorching!!
👶 The little bits of humor that could be found even in the most serious of conversations. Even if most of the fun was in an internal monologue ;)
👶 Mason. Mason.
MASON!!
I spent the majority of the book like this:
And...
And...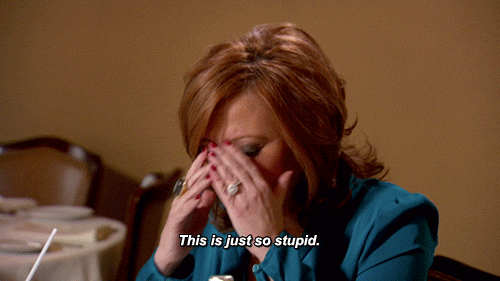 Why? Because the heroine, Bren, drove me absolutely insane. She was so irrational despite my sympathies for her feelings. She was selfish and inconsiderate and every time she made a choice that hurt Mason, I wanted to throttle her. Seriously. How does someone go 30 years without being put in her place? 30 acting like a damn 10 year old. Geez!
If it weren't for Mason's amazing character, I'm not sure I would have made it to the end. But his charm, honesty and openness made me a huge fan and I was determined to see him get his happy ending. Funny enough, I ended up liking Bren too. Go figure! The author did a great job of bringing her full circle and making me realize that her fear was almost palpable, making me understand where she was coming from. I didn't like it, but at least I understood it. So it was easy to sit back and enjoy the happily ever after these characters achieved.