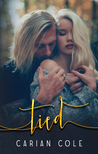 Tied
by
Carian Cole
My rating:
4 of 5 stars
It was all about Tyler for me. He was EVERYTHING!! It's not to say that I didn't like Holly or that I wasn't sympathetic to her plight because I definitely was. She was kidnapped at the age of 8 and eventually rescued by Ty 10 years later. So I felt that. Her and Ty were "tied" to each other in more ways than one.
"She's everything. My past. My present. My future. My twin flame - the one who shares the path of my soul."
She was Ty's perfect match, in every way. Their slow build that evolved from rescuer/rescuee to friends to soulmates was a thing of beauty and it was all due to Ty. He was ultimately swoon-worthy and romantic. I only wish I could have seen some sort of resolution to the distance between these two and their families. Holly and her brother seemed to be on the right path, but the same couldn't have been said for her little sister or her parents. As for Ty, there was no doubt that his family loved him to pieces but it would have been nice to see him embraced back into the fold. I would loved to have seen him re-establish his relationship with them.
"I'm going to love all of her - the good and the bad, the smiles and the fears, the pretty and the dirty."
Regardless, what Holly and Ty found and shared was more than enough for most people and I was happy to enjoy their journey to love with them.
Release Date:
June 26, 2017
Genre:
Contemporary Romance
POV:
Dual - 1st person
Heat:
3.5 out of 5
Type:
Standalone - Book 2 of the Devils Wolves series