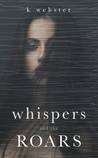 Whispers and the Roars
by
K. Webster
My rating:
5 of 5 stars
Release Date:
December 6, 2016
Blog Tour Date:
December 16, 2016
Genre:
Dark Romance
Steam:
4
Series or Standalone:
Standalone
First and foremost, I
NEED
to state how incredibly gifted K. Webster is. If you haven't read anything from her before, I really don't know what you're waiting for. I really, really don't.
Seriously. Do it
NOW
!! You really have no idea what you're missing out on. I'm so grateful that I happened to stumble upon Kristi's
Dirty Ugly Toy
in March and I fully intend to make my way through each and every one of her books. They're that freaking spectacular!!
Okay, back to the book.
Whispers and the Roars
is more than a dark romantic tale about Kadence and Yeo. It's far more than twisted and suspenseful. This story is a mindfck of epic proportions! At one point I had to ask myself,
"Natalie, are you OK?"
My mind was utterly blown and I felt adrift for a moment. But nothing... and I mean
NOTHING
was going to keep me away from finishing this book.
"We've never really made sense to anyone, you and I, but to me we make perfect sense." - Yeo
The love found in this story is profound. I can only hope to find someone capable of the love that Yeo has for Kadence (and she for him). It was deep, consuming, earth-shattering, life-altering, remarkable, rare, radical and fundamental. To call his love a thing of beauty would be an understatement.
"I love you at your best and I love you at your worst. I love every single part of you. I always have and always will. I even love the parts I hate about you." - Yeo
Read this book. Seriously, read it. You want to know what it's about?
Read it
. Curious about what all the fuss over this story is for?
Read it
. Interested in who the heck are Yeo and Kadence?
READ THE BOOK!!
Go into it with an open mind and be prepared for the feels. Whether you dabble in darkness or are a connoisseur such as myself, I can't imagine you regretting giving this book a chance.