My rating:
3 of 5 stars
The Torqued Trilogy #1
Release:
May 31, 2016
Length:
396 pages
"There's parts of her that were completely untouched until my dirty hands pulled her in, marking her in all the ways she needed."
Desperate to find a new mechanic, the last thing Reddington expects is a woman to show up, let alone one with a sinful body, sharp tongue, and the inability to just do her job and not give him lip.
He can't deny he's hoping to catch a view of her bent over a hood, but there's not a chance in hell that's going to happen. As much as Red wants to take her for a test drive, he knows he needs to keep his priorities straight.
"Have you heard of Newton's third law of motion? Every action has an equal and opposite reaction? It all goes back to one saying. You're able to choose but you're never free from the consequences of your actions. There's no reset, there's no takeback, there's an action, and an outcome."
After fleeing from an abusive ex, Lennon hopes the garage bays of Walker Automotive will keep her dark secrets hidden from her past. What she doesn't expect is a sexy, brooding, tattooed boss with an attitude.
Neither of them can ignore their attraction as they struggle to make sense of their connection. And what happens next will no doubt be unsteady.
"I'm not going to let him hurt you anymore, Lenny. I won't let him anywhere near you."
Read it for FREE with Kindle Unlimited
My Review
This story had great potential. It really did. And as it's the first book I've read from this author, it was a good introduction to her work.
However...
1. The errors were absolutely atrocious. Whether it was spelling mistakes, wrong word usage, or missing the word completely, it made reading a tad bit difficult.
2. What was up with all of the similes and metaphors??? I'm all for an author flexing their writing chops. But... most of these were complete nonsense. They made
NO SENSE
to me. I read and re-read all of them and I still couldn't figure them out. Had me reading this damn book with a stupid look on my freaking face!!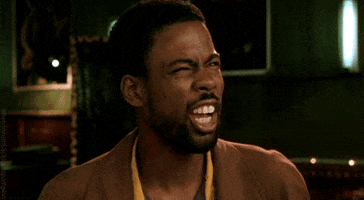 Yeah, that kind of look. And I was in freaking public!
But I digress...
Aside from all of that, the story was actually quite good. There were many elements I did enjoy. I liked the development of Lenny and Red's relationship. I liked that the author made Red feel guilt for moving on from the death of his wife. It was a natural feeling and made his pain more real for me. Lenny's wacko husband on a rampage definitely added that dose of suspense the story needed. However, my favourite part of this tale was Red's 5yo daughter, Nova. This kid was such a delightful character. I can't tell you how many times she made me laugh throughout this book. She was adorable, sweet, curious, feisty, and scarily precocious. She made this story.
XO