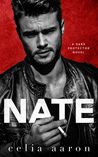 Nate
by
Celia Aaron
My rating:
5 of 5 stars
✩✩✩ 5 "I wanna have Nate's babies" stars!! ✩✩✩
Release Date:
August 25, 2017
Genre:
Romantic Suspense ~ Mafia Romance
POV:
Dual - 1st person
Heat:
4 out of 5
Type:
Standalone with character crossover
I've been a huge fan of Nate's ever since I got the chance to meet him in
Dark Protector.
To say that he left a lasting and phenomenally delicious impression on me would be an understatement. He was the humor amongst the grim circumstances. The laughter amidst the bloodshed. So yeah, I loved the guy. So you can imagine how freaking ecstatic I was to see that Celia Aaron was giving him his very own book!
So what did I think? I absolutely loved Nate's story. I loved his heroics, especially when it came to saving and protecting Sabrina and those closest to him. I loved his bravery in the face of certain death. I loved his loyalty and camaraderie with his people, such as David and Peter and Con. Gosh, even his interactions with Angus gave me thrills. I loved his badassery, his charm, his focus, his dedication, his sexiness, his vitality, his
EVERYTHING!!
"Seriously. When I'm done with you, you'll look like that guy with the face. What's his name? Sloth? You know the one. Got one eye toward heaven, one eye staring at a candy bar, teeth all out to here and an ear that can hear the ocean from Kansas."
I won't say I'm an expert or anything as I haven't read all that this author has to write, but I have loved those stories I've read so far. And I will tell you that if you're going to give her a try, you
CANNOT
go wrong with
Nate.
View all my reviews