My rating:
3 of 5 stars
Standalone
Release:
October 3, 2014
Length:
354 pages
After another painful breakup, Laney Temple finally understands that love is a fairytale and sex rarely comes with a happy ending. She's too busy for it right now anyway--she has a business to run, art to create, and candy to crush. Eventually she'll be ready to switch from her plastic-or-silicon lover to a flesh-and-blood one. But before that happens, she needs to be sure she won't feel any of those annoying emotions that make her heart do things it wasn't meant to do...
Like break
Carson Bennett is completely upfront about what he wants, and it has nothing to do with Laney's heart. Her lips? Hell yeah. Other parts of her body? You better f*cking believe it. But her heart? Nope, not even a little. Until it does... a lot. But having feelings for someone isn't allowed. It's the kind of thing you're supposed to push down deep and cover up with one-night stands, sarcasm, and booze...
Like secrets
Two people want the same thing—a commitment to nothing more than great sex in a bunch of different positions. Simple. Enjoyable. A win-win. Problem is, those two people have families and fears and pain that spill into every moment of their lives, control what they do and who they are. And if either Carson or Laney can't free themselves from the past, they'll both be pulled under by it.
My Review
I almost DNF'd this book within the first 10% but I pushed on through.
I tried. I really tried to love this book. But I didn't. I ended up doing a lot of this:
After skimming through I discovered some components of the book that I did enjoy. Such as the witty banter; a damaged hero because Carson suffered through repeated traumatic experiences; and a heroine who had all but given up on true love.
I love when a story tackles issues that effect much of society and handles it with sensitivity. I truly believe the author accomplished that and I really appreciated her note on statistics and how to get help at the end.
What I didn't like: although the FMC was beautiful, smart, artistic, ambitious, generous, caring and compassionate, something about her got on my last nerve. Okay I have my reasons.
1. She was delusional. Like her thought process and reasoning was really messed up.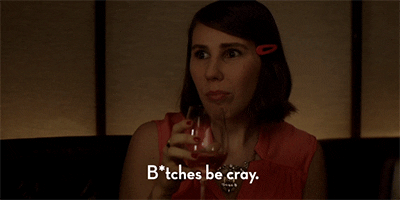 She went on and on about how she's been unlucky with love and relationships for 8 years.
She's 23 years old!
Now I'm not saying that one cannot find love before the ripe old age of 23. Far from it. But to make it seem that love was a
serious
issue/problem/dilemma for the 8 years proceeding that age is just plain ridiculous! IMO
Okay, so I had only one real reason not to like her. But it was enough to tarnish my opinion of her going forward. I didn't hate her. I liked her for the most part. I just couldn't get over this.
Additionally, while we got plenty of background on Carson, there was virtually nothing on Laney. How was I supposed to connect with her if I were able to get beyond her unreasonableness? I didn't. However, I absolutely adored Carson (the reason for the 3 star rating and for me not DNF'ing the book). Every single thing about him was interesting and amazing, especially his broken parts.
XO